E39 Auxiliary/Condenser Fan Upgrade How To
By Bradley Denton
Purpose:
To improve cooling and air conditioner performance by upgrading the 20 year old electric auxiliary fan.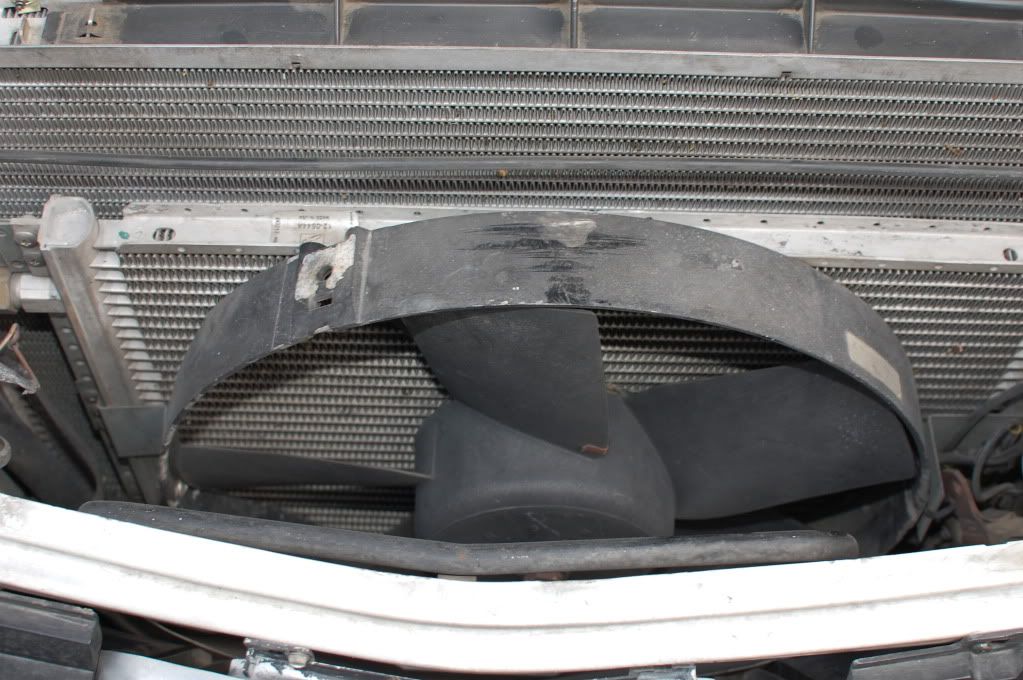 The Fan:
The E39 5 Series has an excellent auxiliary cooling fan installed from the factory. For those that have hear it running on high speed, they will tell you it sounds like it means business. While I have no definitive CFM rating for the fan, I am willing to bet that it out performs most, if not all aftermarket fans on the market. It has a side benefit of coming installed in a very nice shroud with louvers to reduce drag at freeway speeds and improve flow through the fan at low speeds. The fan is roughly 16" in diameter and has curved blades. I am using an OE replacement fan made by DEPO parts for a 99-03 e39.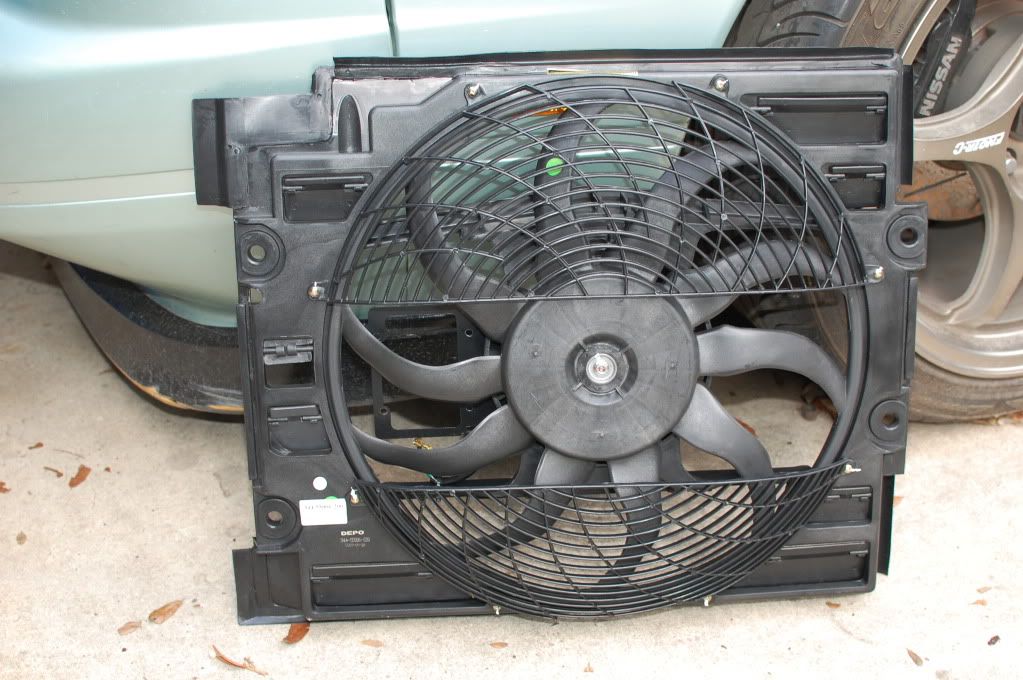 The Install:
Since I am using a modern parallel flow condenser the install will be slight bit different than if the original condenser was installed. The fan in the e39 is on a 50A circuit which means that the stock wiring for the e28 aux fan will be insufficient as it is on a 25A circuit. New wiring will be required. I wanted to be able to have the fan run on a high and low speed so I planned to use the resistor set that came with the electric fan.
I should note here that I made a bit of a mistake as I learned after sourcing the fan that these model years use a PWM (pulse width modulated) fan control instead of resistors to control fan speed. Only the 97 and early 98 models have the fan with a three speed resistor pack. I removed the PWM controller and installed the factory resistor pack from my old stock fan. I have plans to build a PWM controller for the e39 fan so stay tuned for this upgrade ( I am a strange mechanical engineer and enjoy electronics projects). This configuration will require two relays. Using the original low and high speed fan relays, I wired them to act as the control circuit for a new pair of 50A relays mounted on the core support. Using a run of 2 pair shielded wire, I wired them up. The wiring I used can be seen below.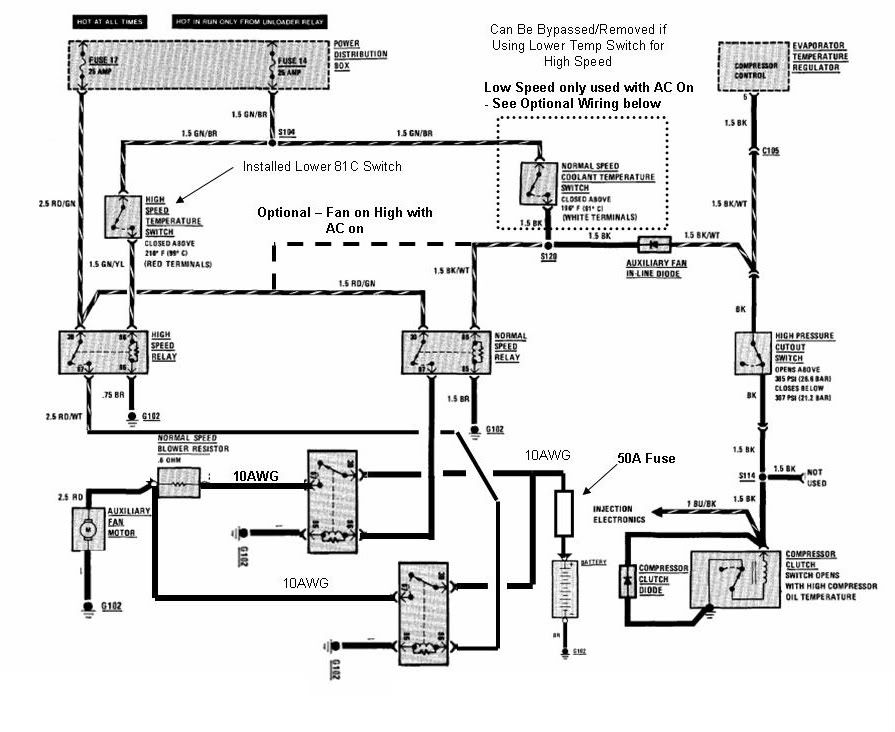 Wiring schematic (yes, I know, I am type-A and used the original ETM schematic and modified it). There is some optional wiring and it is noted in the drawing.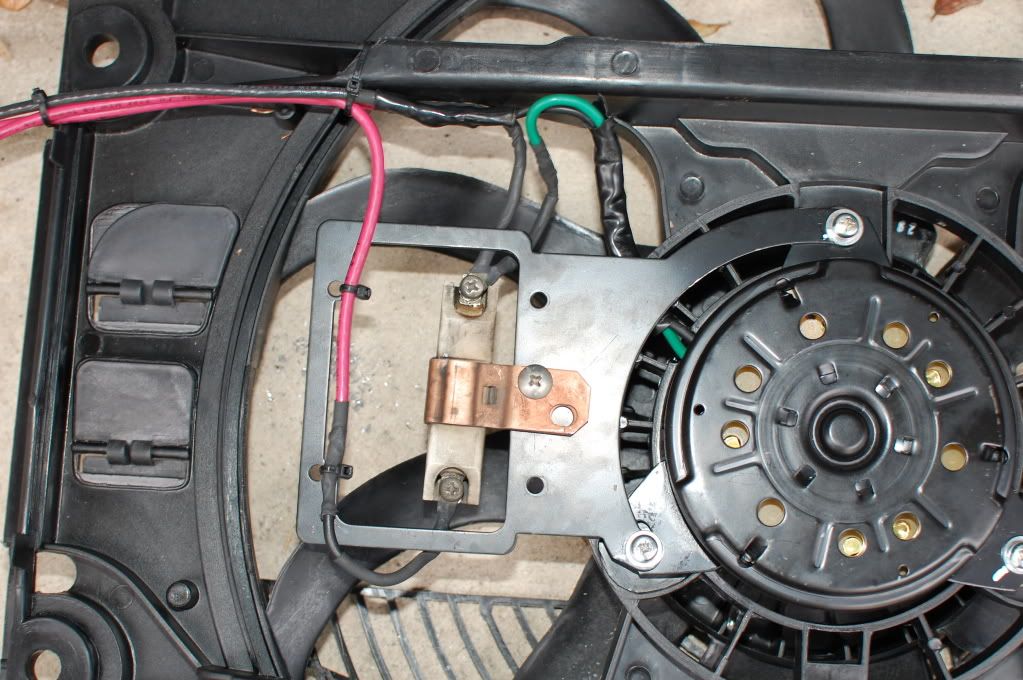 Resistor Pack Mounted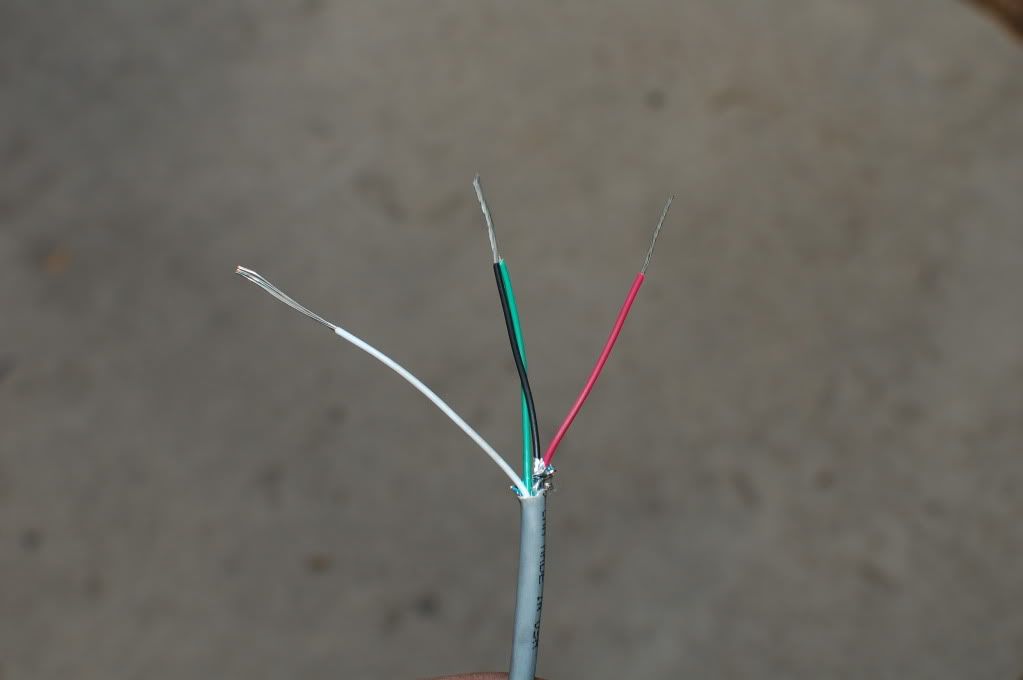 Two Pair wire for control circuit. You can connect the two ground wires together as shown.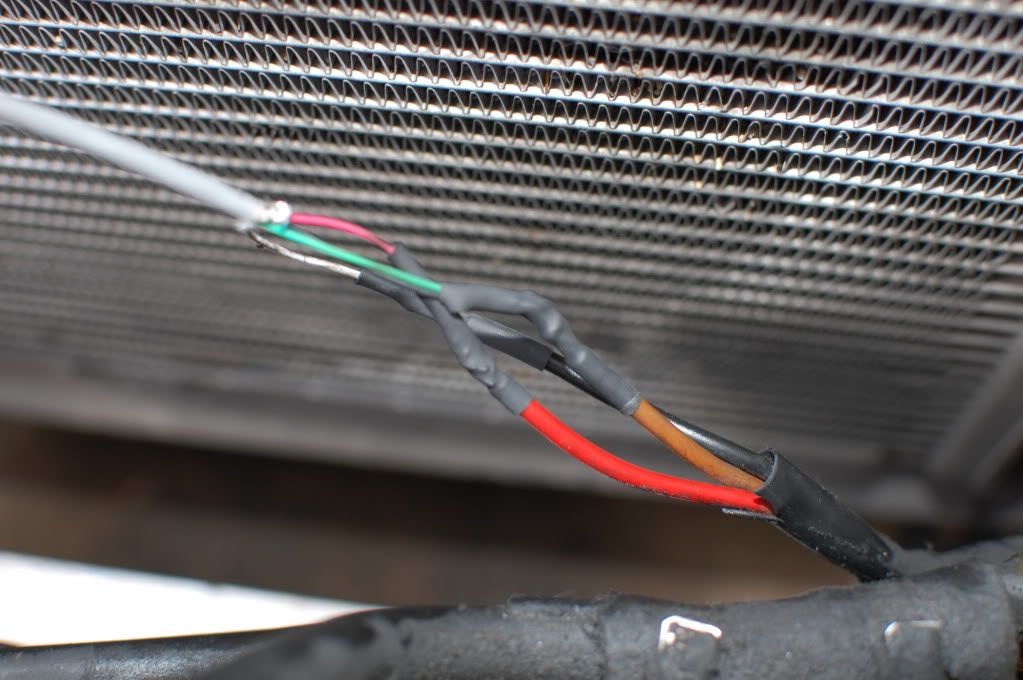 Relay control wires spliced into original fan wiring. Since it is only controlling a relay, the wires do not need to be a large gauge.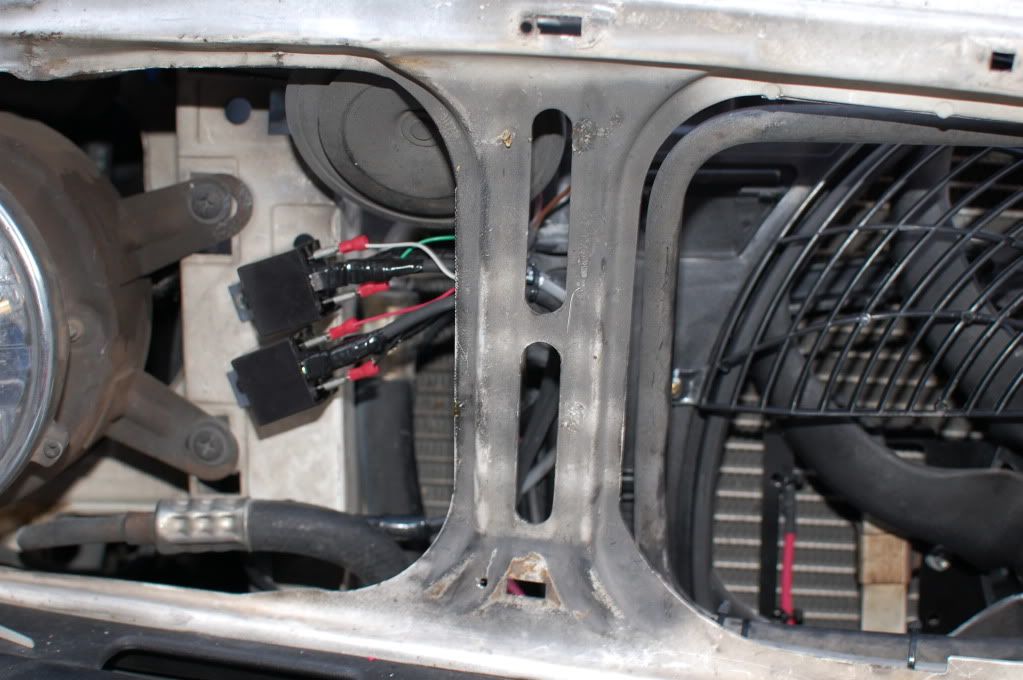 Relays and wires mounted and ready to rock.
Since I have an intercooler mounted on my car I had to remove the lower shroud to get it to clear. This would not be necessary w/o the intercooler. Here are some shots of the mounted fan.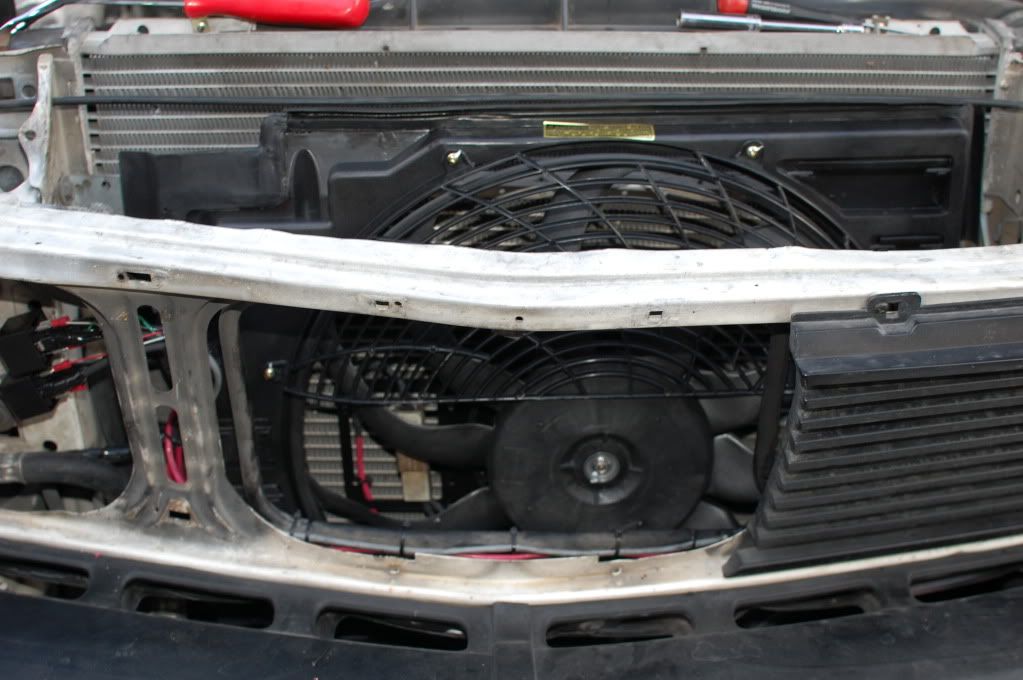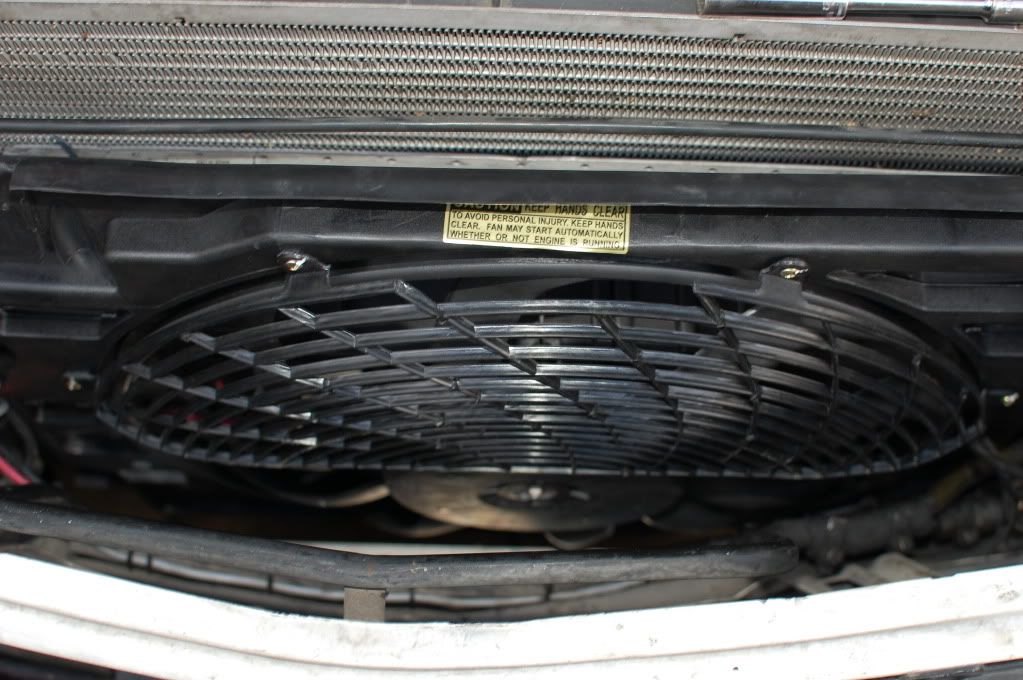 Performance and Conclusion:
The fan on low speed seems to move as much air as the old fan did on high speed. Since I want a little bit more performance on the low speed setting I am planning on sourcing a 0.2 ohm resistor from an early e39 to replace the e28's 0.6 ohm unit. On high speed this fan just plain rocks. It moves an amazing amount of air. With the engine off it has enough guts to spin the stock clutch fan with a healthy fan clutch. That's what I'm talking about. It is a bit loud in front of the car, but it is almost not noticeable from inside the car with the windows down (who wants to do that though when you are rocking the AC in 104? heat). All in all I am very pleased with the fan upgrade. It looks exceptionally stock (too bad it's covered by the cowl cover) and performs as I had hoped it would. The only thing I would do differently would be to have purchased an earlier model fan so it had the resistor pack. Now that I have this one though I will be implementing my PWM controller. When (if) I get around to it, I will update this thread. Hope you guys enjoy and give you an option when replacing your aux fan.