So a couple of years ago I stumbled upon an early euro 635 a ways outside of Denver. After some back and forth I ended up looking at it and eventually purchasing it. It was actually a one owner car, the owner's dad had bought it new or very close to new and then imported it in to the US (Fred Minturn). He didn't go into detail and didn't have a ton of records unfortunately.
I just finally got it running and now have enough detail to make a post. Not sure what will happen with this one, but it is interesting enough of a story that I thought I ought to make a project thread.
I had done routine checks online for BMW's just to keep my eyes peeled for anything interesting. Of course this euro sixer was something that piqued my interests. It was multiple hours outside of Denver and I emailed the seller. When I head back from them the seller said it could not be driven. I was confident it wouldn't be sold quickly in a non-running state and might last until the weekend or later. I convinced my wife into joining me on an adventure to go to a new mountain town and take a look at (another) shark. Part of the appeal for her was that it was automatic as she prefers the slushboxes
So we made the 3 hour trip to the car and the seller was not there but left the keys.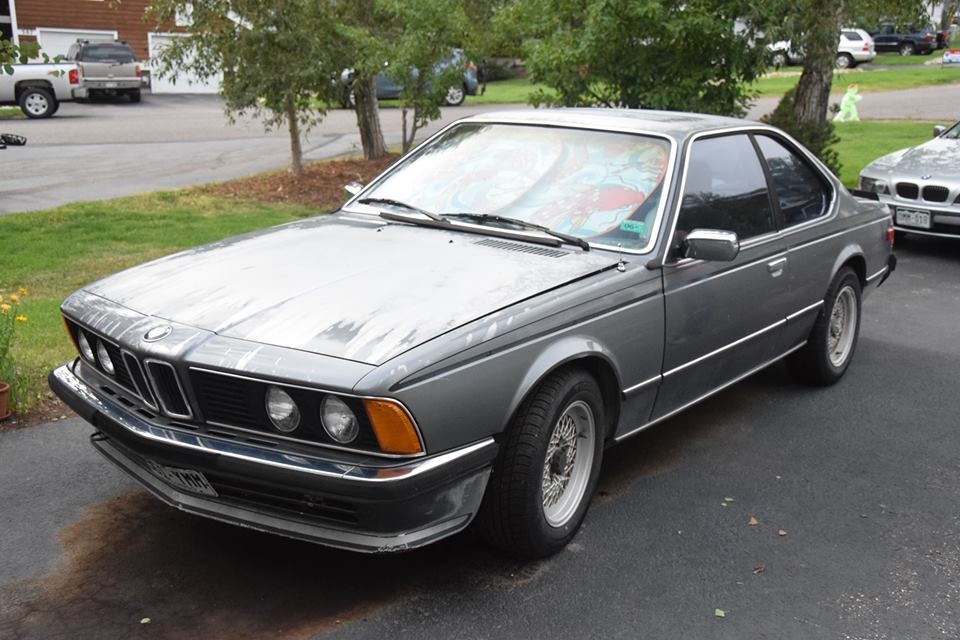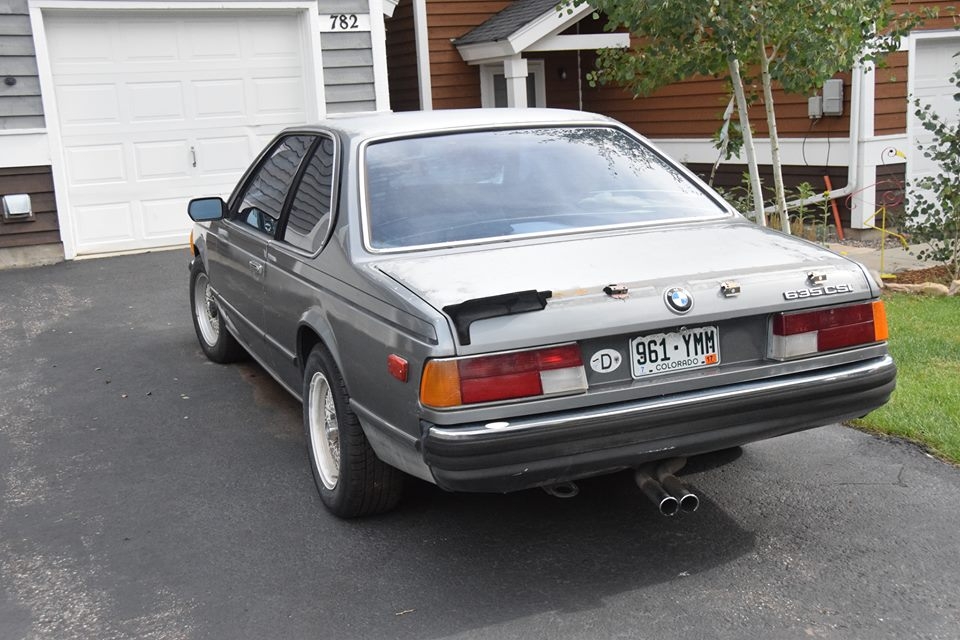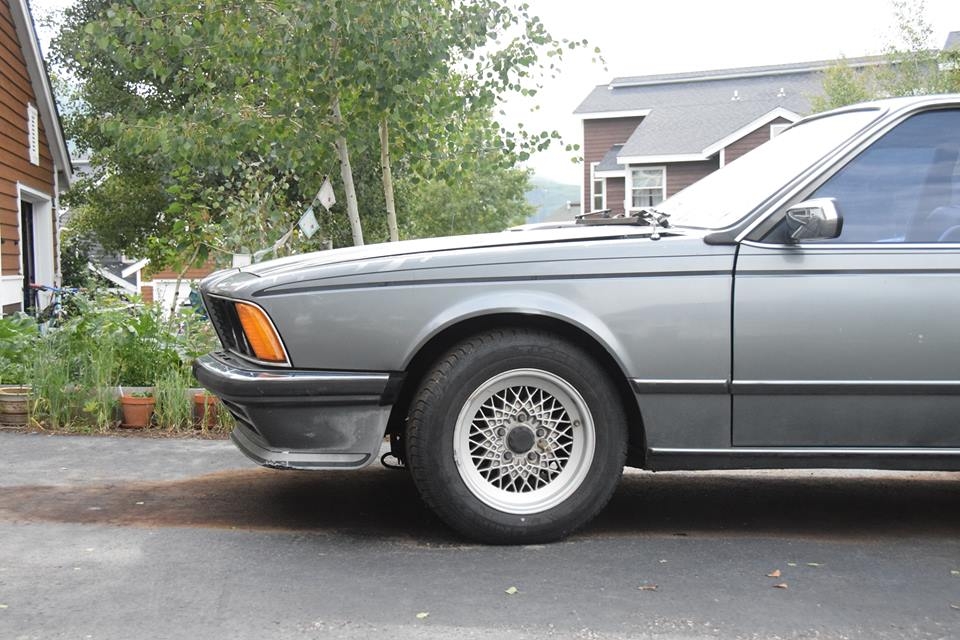 It was indeed an '81 euro as it it the early chassis, early spoilers but under the hood was a 3.5L engine with Motronic intake manifold. This car has vacuum brakes and I was pretty familiar what to expect having heard about the unique '81 model. The paint was beat pretty bad but the bumpers looked nice and crisp, as did the body. As I examined further, I could not find a trace of rust and I knew that this one was worth saving-- maybe for me in the future, maybe not. I didn't know but felt that it was a car worth saving, especially if I felt like I might be able to get it to run.
A huge oil stain was hidden under the car like the engine was seriously in need of repair. I turned the key and it started right up into a pretty steady idle. That was encouraging. I touched the gas pedal and it stuttered and acted like it wanted to die. A quick check under the hood and removal of the oil filler cap identified that the engine had good vacuum and nothing was out of place otherwise.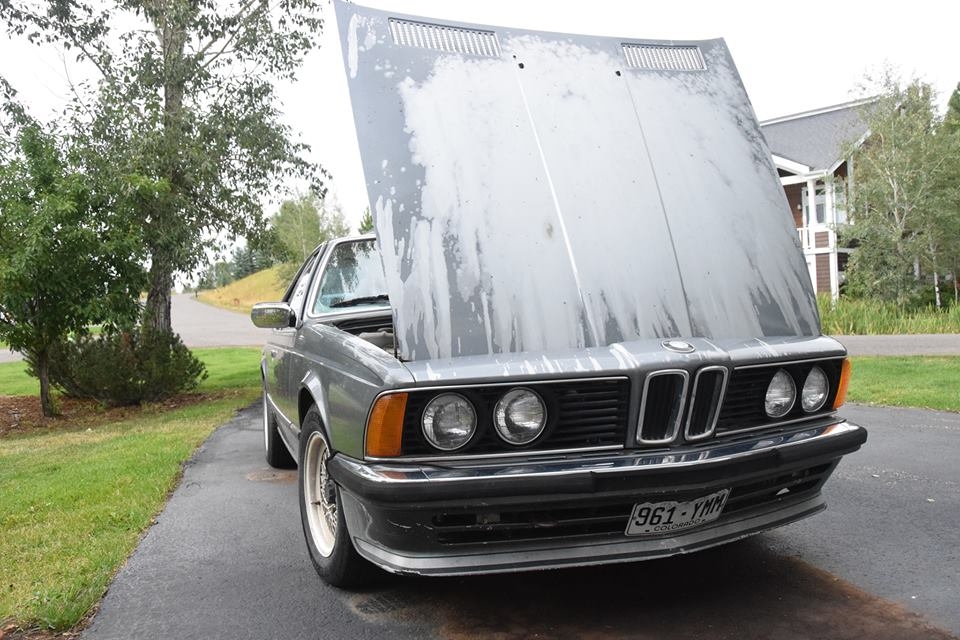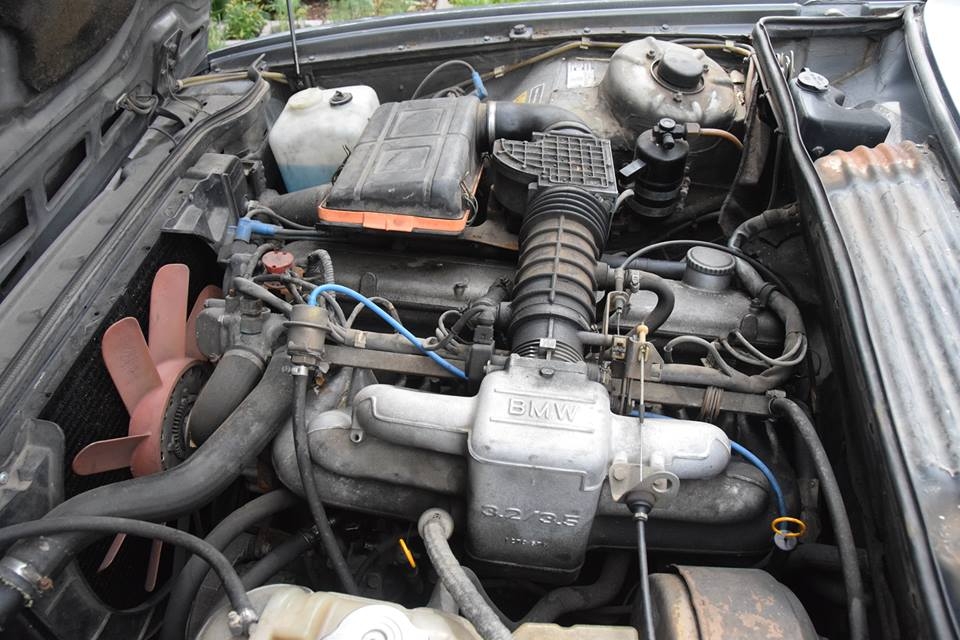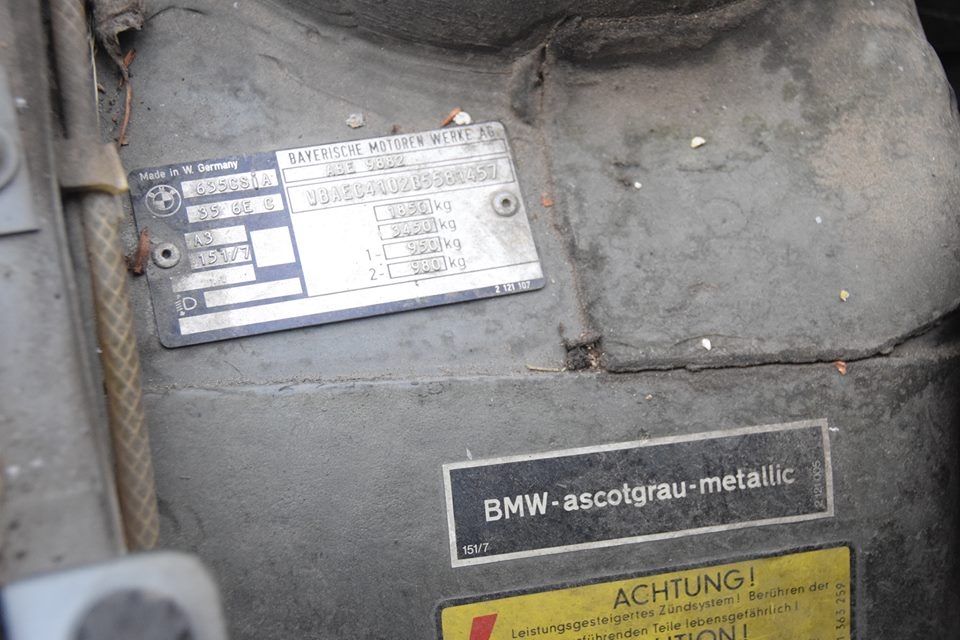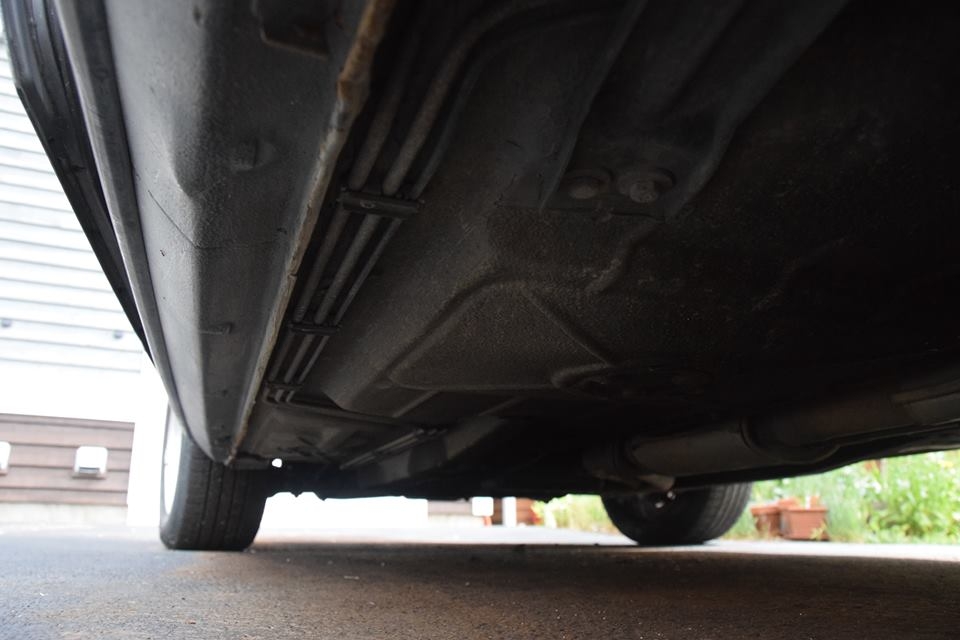 I checked all of the spark plug wires and connection that I could see but nothing helped. The car was able to shift into gear and creep both forward and back, so that was a plus.
The engine bay was super oily but I suspected that maybe it was just an improperly sealed valve cover or similar.
In my sleuthing, I found pictures of the car sitting in almost the same spot 10 years earlier, having arrived from Texas sometime in the early 2000's.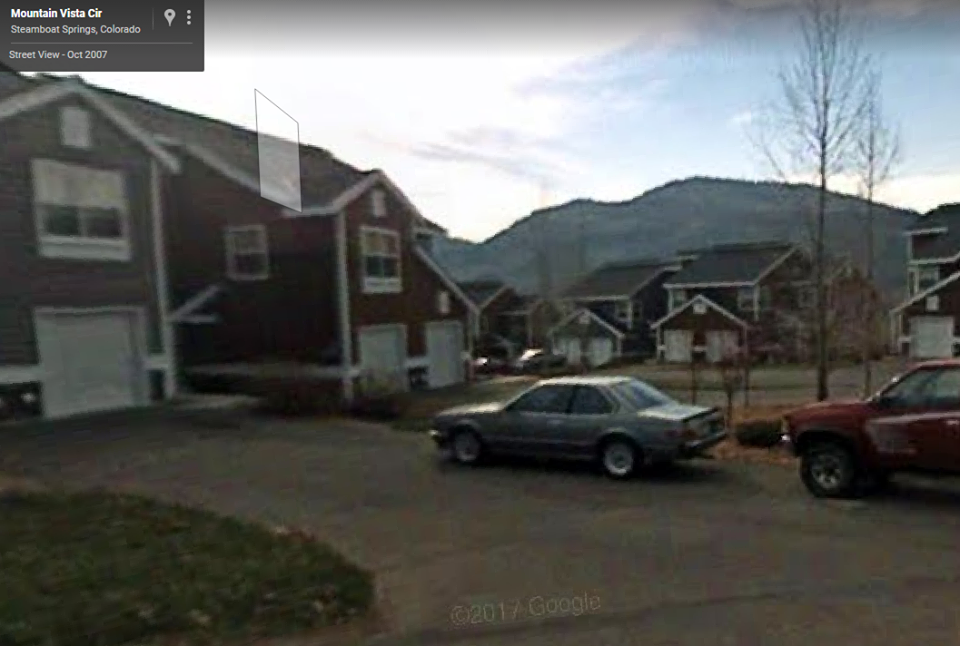 My brother's X5 4.6iS was the tow vehicle, even going over the Continental Divide and the Eisenhauer Tunnel in Dillon, CO at 10,000'. We made the trek home and I have to tell you, it was sure enjoyable seeing a euro shark nose in my rear view mirror the entire trip home. The X5 looked pretty god towing the shark too.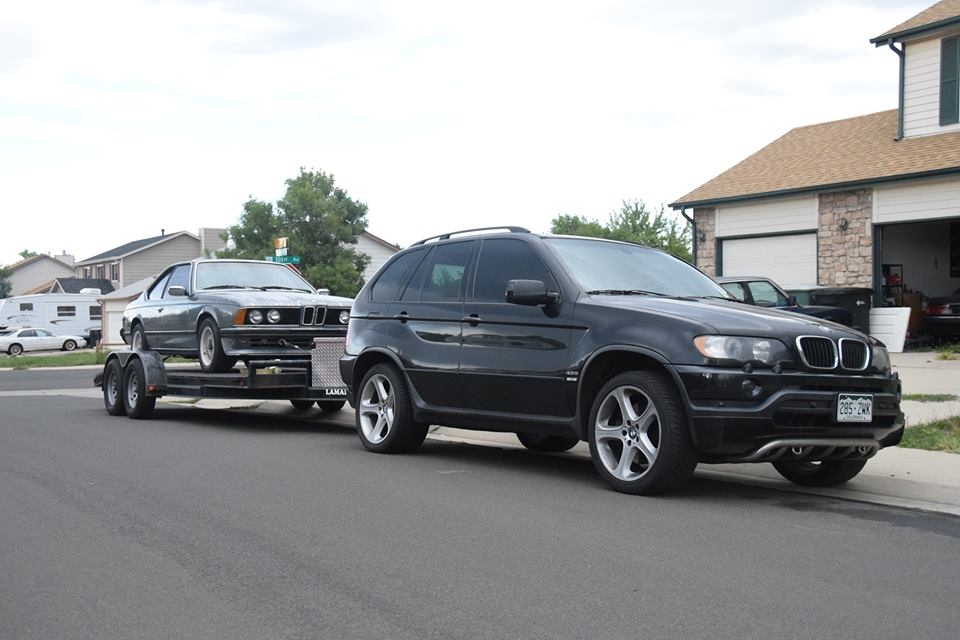 Off the trailer in front of my house. It looked pretty happy sitting next to a few other BMW's. Glad it ran because I was able to idle it off the trailer and move it around just a little bit.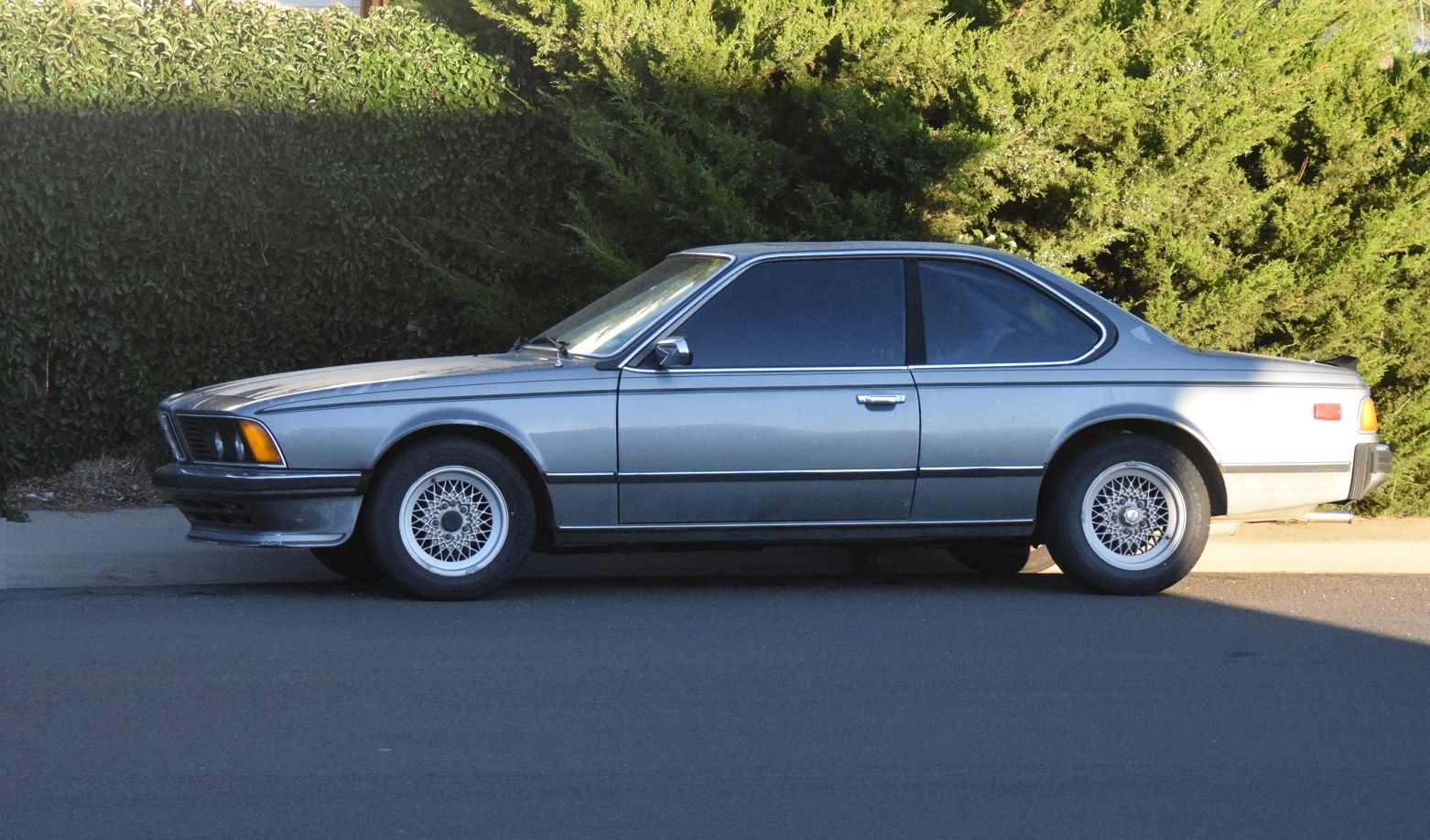 From the build sheet on the rear seat: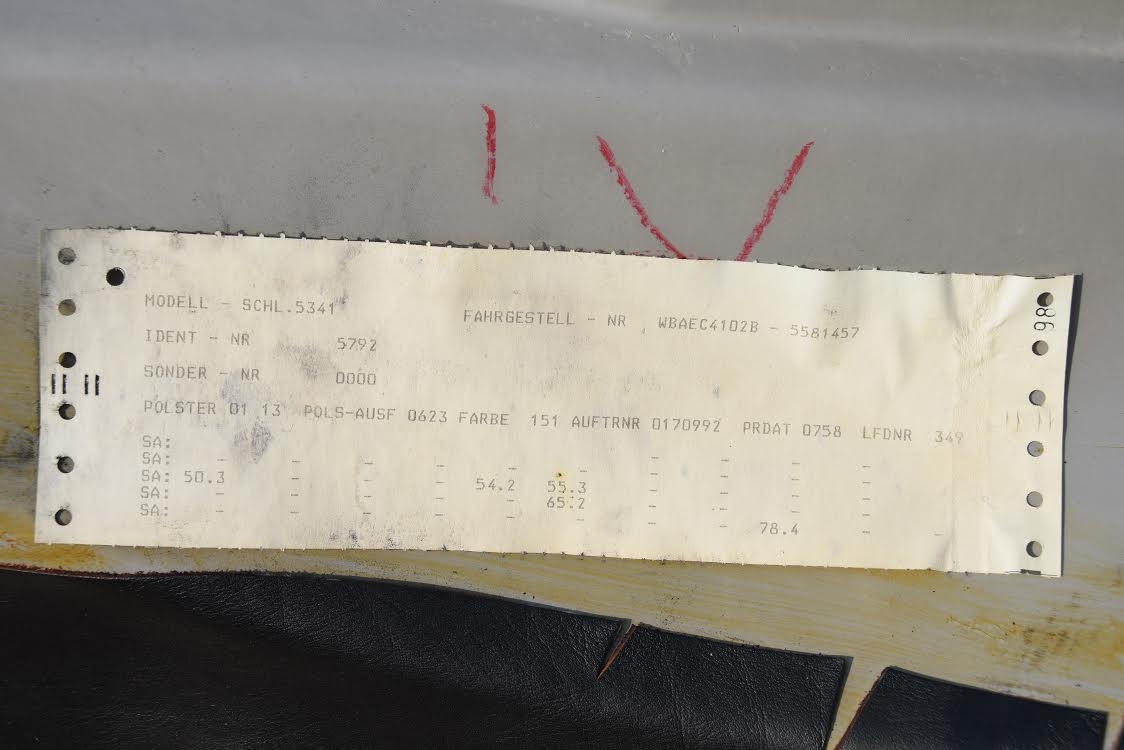 The BMW 635CSi VIN 5581457 was manufactured in May 1981 and delivered on May 08th, 1981 to the BMW dealer Ungeheuer in Karlsruhe, Germany. The original colour was Ascotgrau metallic, paint code 151. The car was equipped with a sliding/vent roof.

Unfortunately there are no details about interior and further special options mentioned in the delivery books. Maybe you are lucky and able to find the so called "Laufzettel" under the rear seat bench (where the colours and options are coded).

The "Laufzettel" additional data decoded:

0113 - upholstery black leather
50.3 - fog lights
54.2 - electric sliding/vent roof
55.3 - green heat-insulating glass
65.2 - both rear view mirrors heated
78.4 - only partially preserved (for the transport of the car)
I attempted to resolve the running problem and spent time swapping parts from my 633 to track down the problem. Spark plugs, CTS, cap and rotor, injectors, AFM, 008 ECU, crank position sensors, but nothing helped with the way it sputtered and hardly revved. Later I tracked down a rare spare 002 ECU and it ran pretty good for about 30 seconds before barely even idling. So I did an oil change, brake bleed and moved it to my side yard where I was going to swap in a full US spec motronic 633 harness. I needed to create a special adapter to the E12 style fuse box to make it work.
Unfortunately after a lot of trial and error and diagnosing, I was unsuccessful.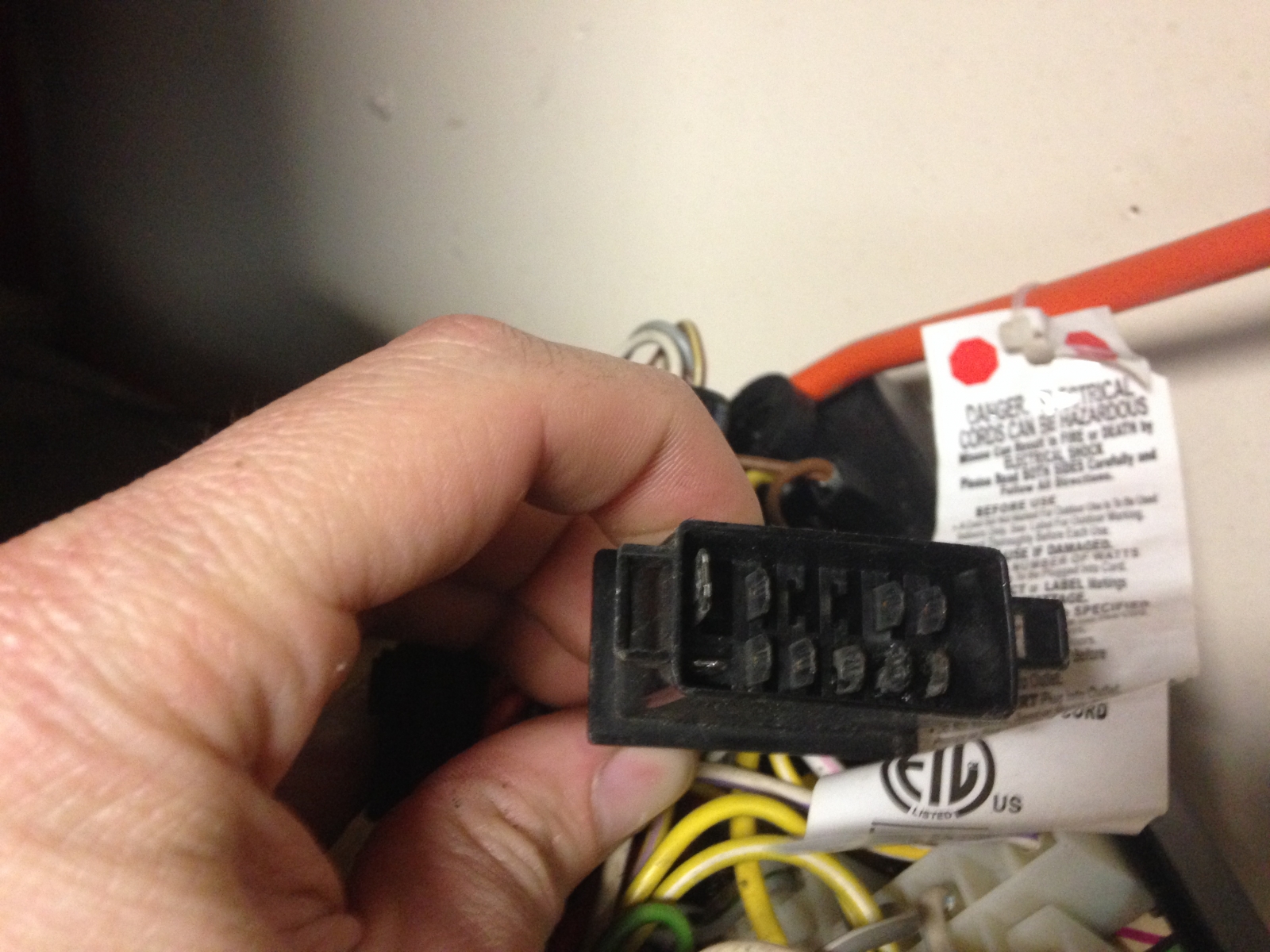 About 2 months ago, I decided I needed to just use my research and go for a M1.3 swap from an E34. So I picked up a kit from mye28.com (Matt/bimmerguy) and went to town removing the old harness, installing US spec injectors and fuel rail, crank wheel, and other bits. Upon wiring, I found that I had the uncommon 25 pin harness instead of the common 20 pin harness. This meant more research to identify the pinouts and wire colors. I got that detail from mye28 and tried firing it up.

I got that swapped (all except for newer water pump which I will still do soon) and went to start the car. Eventually tracking it down, I identified that I had the wrong connector on the starter. Once I plugged that on and cranked for a few seconds, it started right up!
I think it needs valve guides, passenger side window motor replacement, blower motor repair and some other items. Not sure which way I will go with this project or how much progress I will make, but here was some motivation for it.