...and hopefully a rebuild too!
Thought I'd make a thread, mostly so I'll have something to refer back to, but also for any creative input the collective may have.
Brace yourselves - this is E28 related, although the engine did start life in an M635.
The background is that this engine lives in my E28 race car. It was bought to replace an M30 that I spent loads of money tuning for very little gain.
As part of the installation I managed to do a deal on a nice big carbon airbox, and so in order to go Alpha-N I went with an Omex 710 ECU. During the mapping stage, the guys heard a feint knocking from the bottom end while on the dyno. Cue some poking around, and the upshot was this:
As rod bearings go, not the prettiest I've seen.
Cue many months of ignoring it in the hope it'd fix itself (it didn't) until last week I finally pulled my finger out, pulled the engine out and tore into it.
This:
became this:
which after only a mild amount of swearing became this: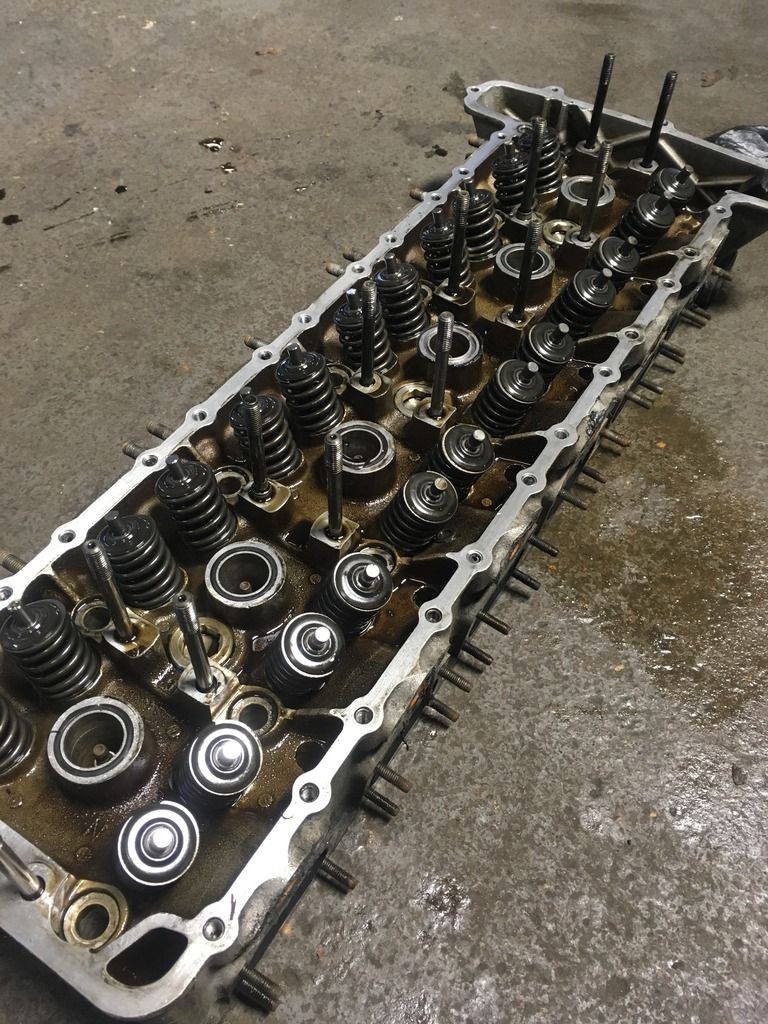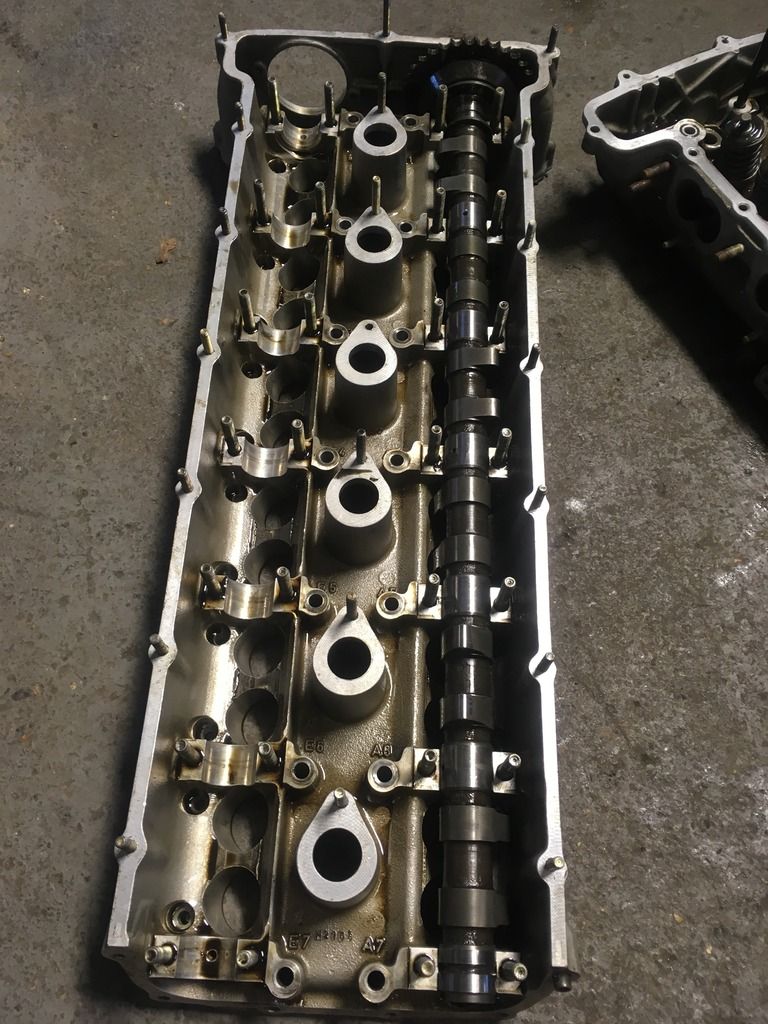 Now, armed with the TIS, a cup of tea and a modest selection of tools, I hit a couple of hurdles along the way that I wasn't sure how to proceed with. The first one was the exhaust cam sprocket. The TIS states for both cams that you simply remove the bolts to remove the sprockets. It wasn't quite as simple as that, as this pic should show:
Without an obvious, non-intrusive way to get a socket on them I decided that the safest approach would be to cut the chain, which allowed for the intake cam to be removed. The exhaust cam is still in-situ until I work out (read: someone gives me a steer on) the correct approach to cleaning that up. It didn't seem to cause any issues in removing the head, so I was happy to work around it for now. As I'll be replacing the chain, sacrificing the one fitted wasn't a problem either.
With everything separated I was able to take a look at the pistons and valves, to see how they've stood up to [insert unknown-but-sold-as-140k mileage here] miles. Even I don't find the following pictures hugely thrilling, but in the interests of completeness I'll add them anyway:
Cylinder 1: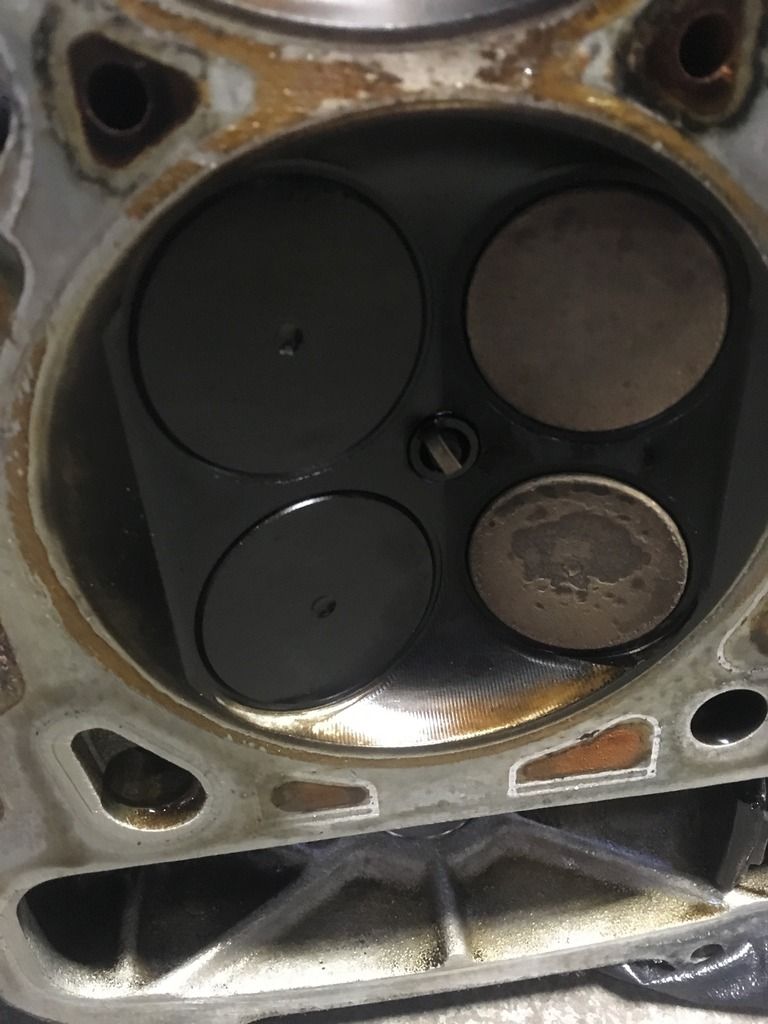 Cylinder 2:
Cylinder 3:
Cylinder 4: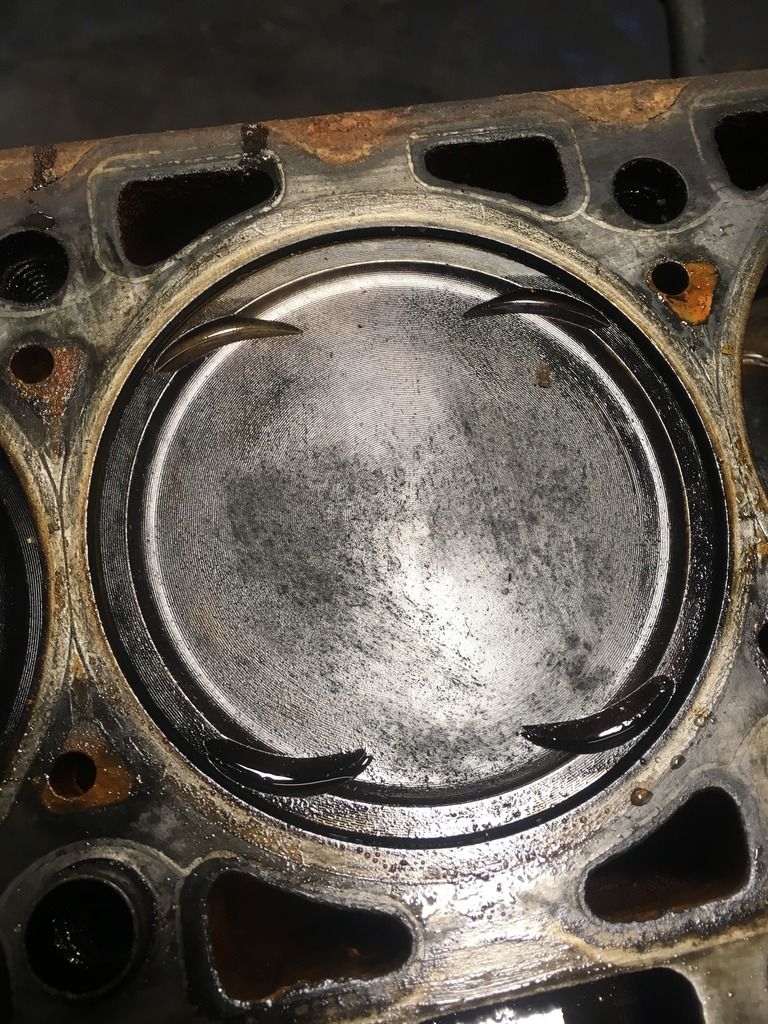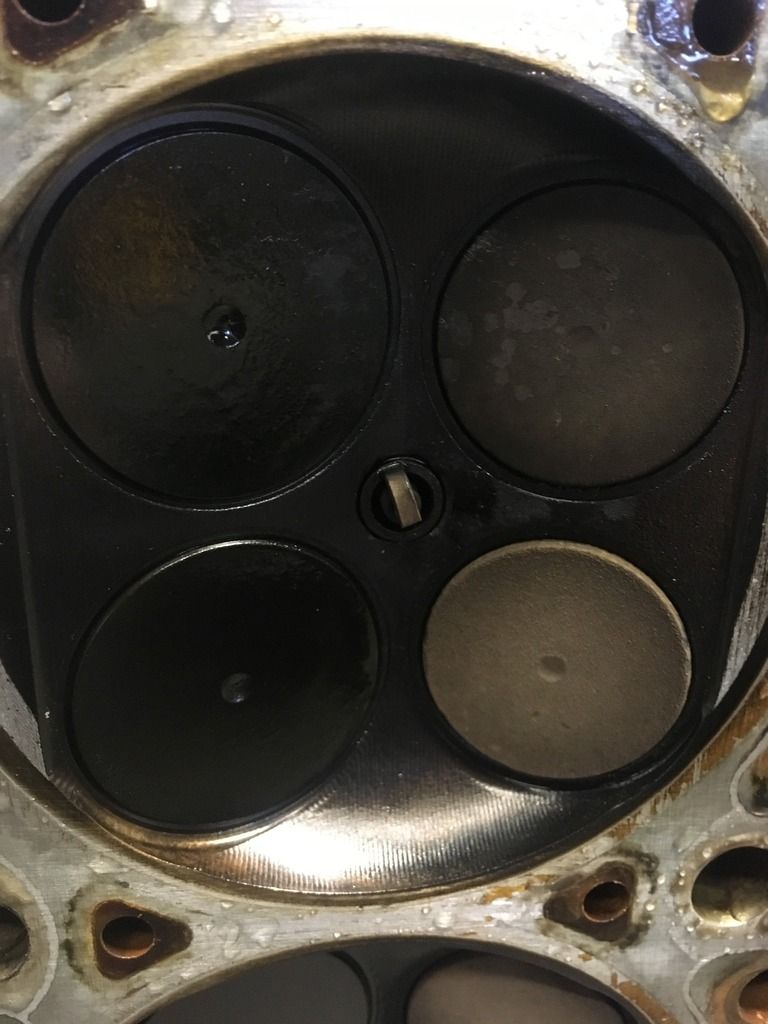 Cylinder 5: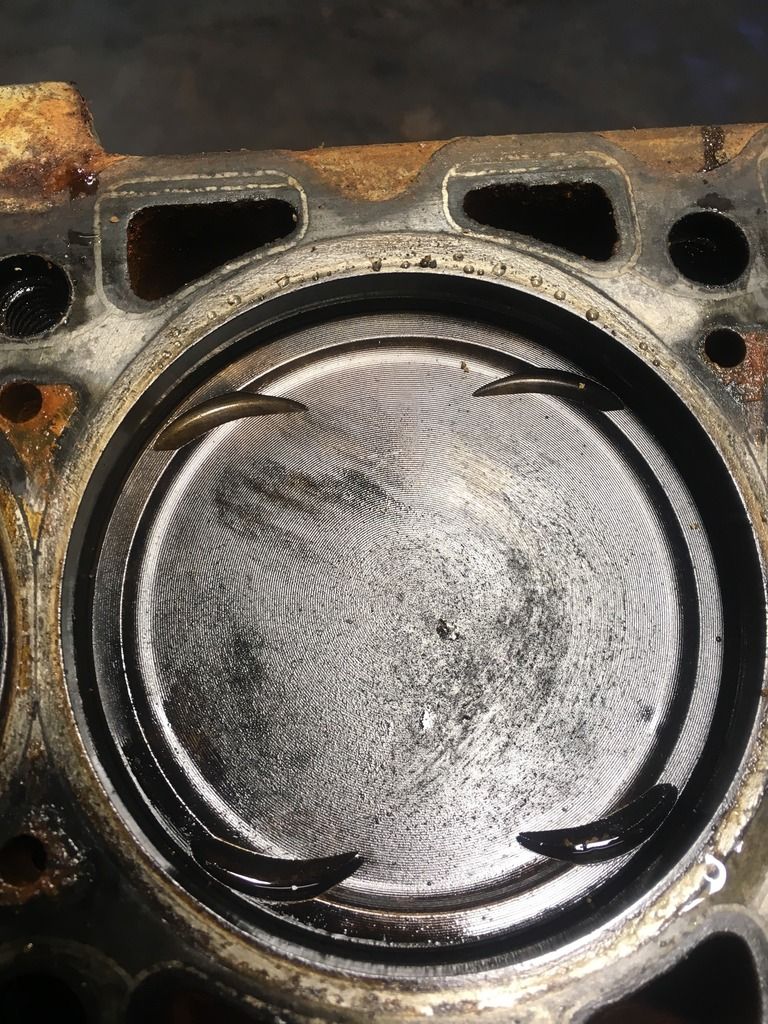 Where it may border on becoming moderately interesting is with Cylinder 6: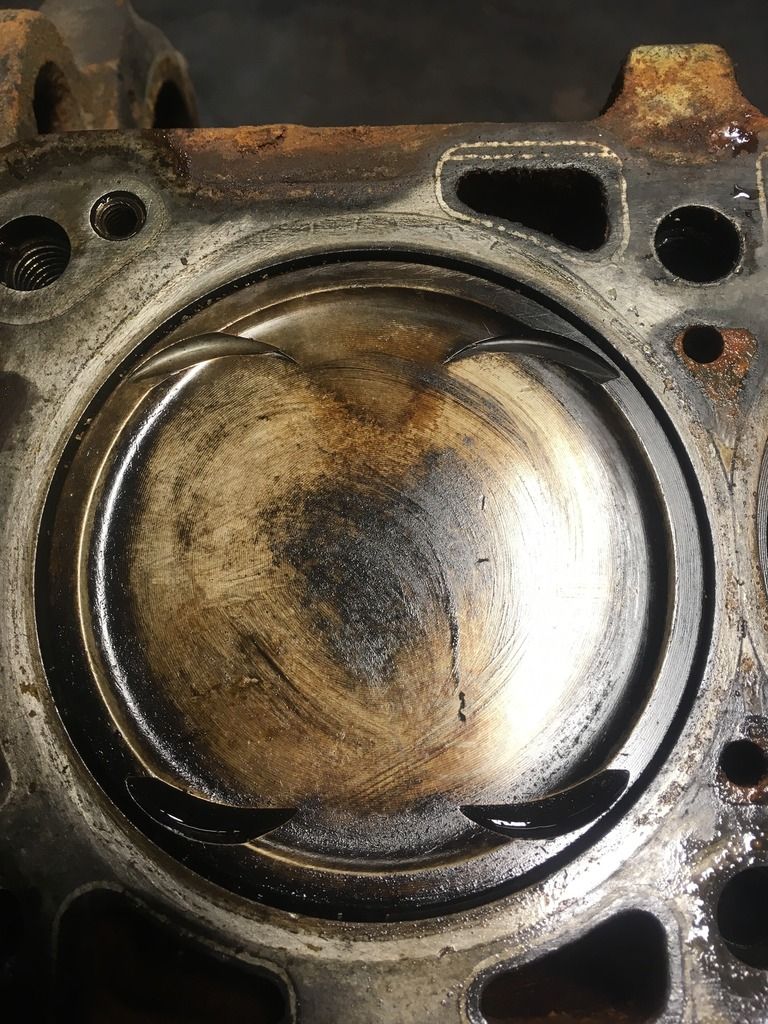 5 pistons showing identical colouring, one visibly different. Answers on a postcard please...
So that brings us up to where we stand today. Given the "unknown" status of the engine (and also that I *may* have set it on fire at one point) my plan is to take the block in to a local engineering company and ask them to do any and every check on it that they can, to verify that it is sound and a viable base from which to continue.
I'm hopeful that it is, and so that will then take me down the rabbit hole of what to do to it during the rebuild. Everything is fair game at the moment - the biggest issues being the relative lack of tuning knowledge around the M88 and the scarcity of performance parts this side of the pond. What seems to work in my favour is that the M88 is
mostly
six quarters of an S14B23, and so there is parts overlap between them. From some reading up I've done on the common S14 tuning routes, it seems the popular path is to go for bigger intake valves, lumpier cams, up the compression ratio and ditch the AFM. All good theory assuming it translates from 4 to 6 cylinders. Where I'm struggling (did I mention I'm not an engine guru?) is in choosing the right spec for all these parts such that they will complement each other and give me a good, solid race engine. I'm not after crazy power, but somewhere over 320bhp would be nice.
As an aside, while the engine is out I'm looking to take this opportunity to make a couple of other changes to the car too - I've got an electric PAS pump to fit (potentially the fastest a Merc A Class PAS pump will ever go!), I've ordered an oil filter housing delete plate that'll allow me to run an inline filter and tidy up the plumbing somewhat, and I will finally fit the nicely powder coated, reinforced front subframe I've been tripping over for months.
So, all comments, ideas and positive feedback welcome! I know we have a geographically diverse membership on here, but I'm sure wherever you are you'll be able to hear my wallet weep.
If you made it this far you've earned yourself a cup of tea. Me? I'm off for a little sob...